About Me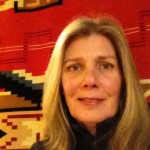 I first started creating artwork when I was seven years old. I had a monster of a teacher. Twice a week we escaped her room to the delights of the art department. It was the only place I felt comfortable, secure, empowered, and was able to shine. Upon entering college, an art major was a natural choice.
About My Art
My imagery reflects profound respect for nature and a deep emotional gratitude for being able to participate. Albert Einstein once said that if a debilitated person could sit quietly in nature around the clock, absorbing the resonate healing effects, natural rehabilitation would result. I thoroughly agree. The colors in my paintings and relationships between them, are conscientiously juxtaposed to promote that vibrant healing essence.
Color, movement, night, day, light, and depth all tell a story, and all are part of my physical conversation with the environment. Artists think with their hands. The imagery of my artwork tells of my perception of the world and our existence in it.
My name is Joan Carter. My life and work is testimony to the healing power "art" can bring into one's existence. Through my art work. I give back into that creative force, which we are all able to draw from. My paintings, drawings, and etchings, are created as celebration of recovery at age 19 from traumatic brain injury and paralysis. I'm 65 now, my work is meant as gift To those who work to be healthy. Hopefully they, and others will also feel the power of healing available in nature/art. Many years ago I was inspired to create an art therapy program that I taught in hospital outpatient programs called – 'Artheals' – to assist people like myself who have experienced TBI. Today I continue to draw and paint what's important to me, the things I don't want to forget.
To view my most recent work, please visit my blog page. – JLC
RESUME
Selected Solo Exhibitions:
2013     Pop-up Parachute Gallery, Idyllwild, California
2005     Acacia Gallery, Palm Springs, California
2004     Earth'n Fire, Idyllwild, California
2001     Open Studio, Idyllwild, California
1997     Uptown, Idyllwild, California
1991     National Head Injury Foundation, Annual Symposium, Los Angeles, California
1990     Madison Gallery, Los Angeles, California
1990     Vorpal Gallery, San Francisco, California
1989     Mekler Gallery, Los Angeles, California
1985     Robert Driver Insurance Company, San Diego, California
Selected Group Exhibitions
2013     Acorn Galley, Idyllwild, California
2005-06     Skye Gallery, Idyllwild, California
2001     2001 An Art Odyssey, Vorpal Gallery, San Francisco, California
2000     Idyllwild Art Association, Juried Show, Honorable Mention
1998     Art Spirit Gallery, Santa Monica, California
1997     Gallery Blu, Palm Desert, California
1995     Women Artists and The West, Tucson Museum, Tucson, Arizona, juried Group Show with catalogue
1994-95     Marianne Friedland Gallery, Naples, Florida
1992     Hanson Gallery, Beverly Hills, California
1991     Very Special Arts Gallery, Washington, D.C.
1991     Banacker Gallery, Walnut Creek, California
1990     Madison Gallery, Los Angeles, California
1990     Directors Guild, Los Angeles, California
1989     Vorpal Gallery, San Francisco, California, "Works on Paper" and Group show in conjunction with the Women's Caucus for the Arts
1988     Vorpal Gallery, San Francisco, California, "The Modern Landscape",
1986-87     Mekler Gallery, Los Angeles, California
1986     Rogue Gallery, San Diego, California, "Drawings on Paper" and "Etchings"
1985     San Diego Museum of Art, San Diego, California, juried Group Show with catalogue,
Public Collections
Fresno Art Museum, Fresno, California
Publications
2004     Jazz In The Pines, Poster, Idyllwild, California
1995     Woman Artists and The West, Catalogue, Tucson Museum of Art
1993     National Head Injury Foundation Fund Raising Card
1992     Sanka/Very Special Arts National Calendar
Teaching Experience
 "Art Heals Life" taught at:
2000     Inland Caregivers Retreat, Fallbrook, California
1992-94     Cedars-Sinai Medical Center, Los Angeles, California
1994     Saint Vincent's Hospital, Santa Fe, New Mexico
Print Making Techniques
1983-85     San Diego Print Club, San Diego, California: founder and co-owner
Education
Palomar College, San Marcos, California – Independent Study: Etching
University of Wisconsin, Waukesha, Wisconsin – Independent Study: Etching
William Woods College, Fulton, Missouri – Fine Arts Major